WORK AT LIMETREE BAY TERMINALS
Plant Access Requirements for Contractors
Contractor employees must meet the following requirements to request access to the Limetree Bay Terminals facility:
Possess a valid TWIC card
Have an active status in either the Drug Free Workplace Alliance or the DISA Contractor Consortium.  DISA test must have been completed within 30 days of requested access date.
Possess minimum required PPE (FRP, hard hat, steel toe shoes, safety glasses, hearing protection and gloves)
Attend and pass Basic Orientation Plus and Limetree Bay Terminals Site Specific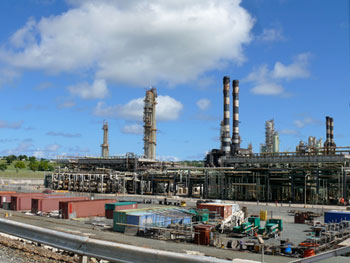 Basic Orientation Plus and Limetree Bay Terminals Site Specific are available at any ARSC safety council including the Houston Area Safety Council St. Croix branch. The initial Basic Plus course is a 5 1/2 hour instructor-led course with a minimum passing score of 70. Thereafter, individuals may take the Basic Plus Refresher, which is a computer-based course. Limetree Bay Terminals Site Specific is a CBT course.
Basic Plus and Limetree Bay Terminals Site Specific Records may be transferred to the St. Croix branch of the HASC. To request a training records transfer, you may submit a transfer request in the Extranet when requesting an employee badge for the employee. For additional information on transferring training records, please call Pinnacle Client Services at 340-692-3500
Active status in DISA or the DFWPA
Limetree Bay Terminals and its contractors are committed to a safe, drug-free work environment. If a contractor's work requires Basic Orientation Plus training (reference Exhibit 8) then the contractor is required to enroll in and maintain active status in a Limetree Bay Terminals approved consortium that requires pre-enrollment testing and continuously subjects active members to random drug and alcohol testing at an annual effective rate of at least 50%. Limetree Bay Terminals approved drug testing consortiums include DISA Contractors Consortium (DCCHA) and the USVI Drug Free Workplace Alliance (DFWPA), administered by Pinnacle Services.