NATIONAL SAFETY COUNCIL ONLINE DEFENSIVE DRIVING COURSE
NSC's Defensive Online Driving Course is now available at the V.I. Safety & Skills Center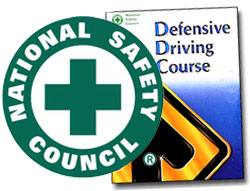 The National Safety Council's Defensive Driving Course was first introduced in 1964 and is continually updated to reflect the latest safe driving topics such as road rage, child safety systems, cell phone and texting usage, ABS, and other technologies that affect vehicle performance. No other driver improvement course has a higher rate of success in reducing the severity and frequency of collisions for its graduates. Over 60 million drivers have taken the NSC course since its introduction.

The web-based version was introduced in 2000 and receives continuous updates and revisions. Using state-of-the-art animation, sound and graphics, the online version offers an engaging, interactive learning environment where students analyze real driving situations, spot driving hazards, and identify the correct defenses.

Most employers are aware that motor vehicle collisions are the leading cause of work-related fatalities and represent the highest average worker's compensation claim than any other cause of injury. However, there are also significant costs associated with employee off-the-job collisions and injuries, which represents more than 40% of the total employer costs. Unfortunately, according to the National Highway Traffic Safety Administration (NHTSA) the statistics are as follows:
1 out of 9 employees will be involved in a collision each year.
For every 1,000 people employed, 14 will be injured in a collision each year.
For every 102 injuries, there will be one employee death.
According to NHTSA, the annual employer cost of motor vehicle collision injuries is an average of $350 per employee.
For people who drive on the job, these numbers are even higher.

Students will receive a certificate of completion from the National Safety Council that, in many states, may be used to lower automobile insurance rates. Pinnacle will also keep attendance records in its online database along with all other local training records.

Safety and risk management personnel can preview a Demo of the course here Please note, this demonstration site is for evaluation purposes only.

Trainees may be scheduled via the Extranet or via the Training Registration Fax form. The Course ID is NSCDDC. The cost is $50.00 per person.

Click here for the Training Course Catalog listing.